The 3-Hours Tokyo Local Bar & Izakaya Crawl in Shinjuku Area is an exciting adventure for people visiting Tokyo.
This tour takes you to the fun and lively streets of Shinjuku, which is famous for its nightlife.
You'll get to go to local bars and izakayas, where you can try delicious Japanese food and drinks while enjoying the energetic atmosphere.
This tour is small and personal, meaning you'll have an amazing time exploring hidden treasures and hanging out with the locals.
It's a must-do experience that you won't forget!
Good news! You can book now for free on Viator. You'll only need to pay 24 hours before the start time and you can cancel any time before that no problem. Click the button bellow to go to viator and save your spot before it's full.
Just The Basics
The final destination of the bar crawl is Shinjuku Golden Gai in Tokyo.
Cancellation is possible up to 24 hours in advance for a full refund.
Good weather is required for the experience, and in case of poor weather, a different date or full refund will be offered.
The overall rating of the experience is 5.0 based on 83 reviews from Viator travelers.
Here's some other great tours and experiences nearby we think you'll like.
Meeting Point and Starting Time
The meeting point for the Tokyo Local Bar & Izakaya Crawl is in Shinjuku Golden Gai, a lively district in Tokyo. It's a cool area with lots of small bars and izakayas, which are like Japanese pubs.
The exact address is Japan, 160-0021 Tokyo, Shinjuku City, Kabukichō, 1-chōme16 2F. Make sure to be on time so everything goes smoothly.
Dress casually and comfortably, and wear comfy shoes because we'll be doing some walking. It's a great chance to meet new people and have fun in Tokyo's awesome nightlife scene.
Highlights of the Bar & Izakaya Crawl
The Bar & Izakaya Crawl is a cool way to explore the lively nightlife scene in Tokyo's Shinjuku Golden Gai district. Here are some things you'll love about it:
Awesome Bars: This crawl takes you to the best bars in the area, each with its own unique vibe. Whether you like traditional izakayas or trendy cocktail bars, there's something for everyone.

Tasty Drinks: You'll get to try a bunch of different drinks during the crawl. From classic Japanese sake to creative cocktails with local flavors, your taste buds will be in for a treat!

Fun Atmosphere: The bars in Shinjuku Golden Gai are known for being cozy and lively. You'll have a blast meeting new people and locals, making it a night to remember.

Learn Cool Stuff: The guides on the crawl know a lot about the history and culture of the area. They'll share interesting facts and stories, so you'll have a fun and educational experience.
Local Bars and Izakayas Visited
On the Tokyo Local Bar & Izakaya Crawl in Shinjuku Area, you get to visit different local bars and izakayas.
This bar crawl is all about exploring the exciting nightlife in Tokyo. The tour guides will take you to special places in Shinjuku that show off the best of Japanese drinking culture.
You'll get to experience cozy traditional izakayas and cool cocktail bars. The best time to go on this crawl is in the evening when the atmosphere is lively and the drinks are flowing.
Each place you visit will give you a unique experience with yummy food, lots of drink options, and the chance to meet locals and other travelers.
Local Food and Drinks to Try
During the Tokyo Local Bar & Izakaya Crawl in Shinjuku Area, there are lots of yummy local foods and drinks to try. Here are some traditional Japanese dishes you should try during the bar crawl:
Yakitori: These are grilled chicken pieces on skewers. They're really tasty because they're marinated in a yummy sauce. Both locals and visitors love them.

Takoyaki: These are balls made with octopus. The outside is crispy, and the inside is soft. They're usually served with a tasty sauce and mayonnaise.

Tempura: This is seafood or vegetables that are battered and deep-fried. It's known for being light and crispy.

Okonomiyaki: This is a pancake made with cabbage, meat or seafood, and topped with different things like mayonnaise and bonito flakes.
There are also some popular Japanese drinks you can try:
Sake: This is a traditional Japanese rice wine that you have to try. It comes in different flavors and can be enjoyed warm or cold.

Shochu: This is a special distilled spirit made from barley, rice, or sweet potatoes. It has a unique taste and is often mixed with other ingredients to make yummy cocktails.

Highball: This is a simple and popular drink made by mixing whiskey and soda water. It's a refreshing choice if you want something lighter.

Japanese Craft Beer: Japan has lots of great craft breweries with different kinds of beer to choose from. Make sure to try some local brews during the bar crawl.
Tips for a Successful Bar Crawl Experience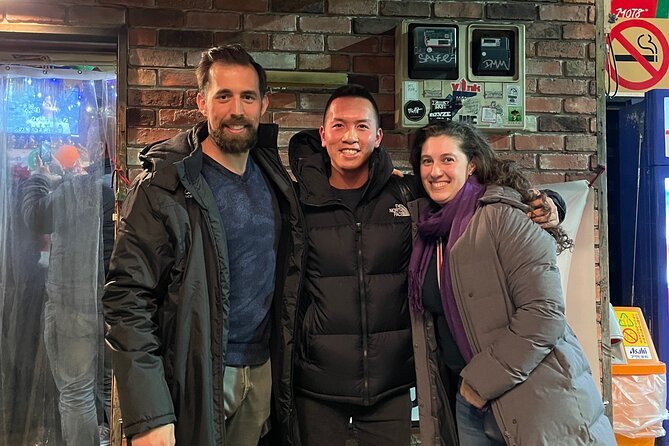 Tips for a Successful Bar Crawl Experience
When going on a bar crawl in the Shinjuku area of Tokyo, there are some things you can do to make it a great experience.
First, learn about the different kinds of drinks they have at the bars and izakayas. Japan has lots of options like sake, shochu, and different types of Japanese beer. Trying these different drinks can make the crawl more fun.
Another important thing is to be polite and respectful during the bar crawl. Treat the staff and other people there nicely, don't drink too much alcohol, and make sure to pay for each drink you have. If it's allowed, it's also a good idea to leave a tip.
Remembering these tips will help you have a memorable and enjoyable time on your bar crawl in Shinjuku.
Frequently Asked Questions
Can Children Participate in the Hours Tokyo Local Bar & Izakaya Crawl in Shinjuku Area?
Children cannot participate in the Hours Tokyo Local Bar & Izakaya Crawl in Shinjuku Area. However, there are family-friendly alternatives available in Tokyo. Age restrictions are in place due to the nature of the experience.
Is Transportation Included in the Tour?
Transportation options are available for the Hours Tokyo Local Bar & Izakaya Crawl in Shinjuku Area. Group bookings may be eligible for discounts. For more information, contact the Viator Help Center.
Are Vegetarian or Vegan Food Options Available During the Bar Crawl?
Vegetarian and vegan food options are available during the bar crawl. Travelers can enjoy a variety of plant-based dishes at the different stops along the tour. The tour caters to different dietary preferences and ensures a satisfying experience for all participants.
Can I Join the Tour if I Don't Drink Alcohol?
Yes, solo travelers can join the tour even if they don't drink alcohol. Non-alcoholic beverages are available at the bars and izakayas visited during the crawl, ensuring that everyone can enjoy the experience.
Is There a Dress Code for the Tour?
There is no specific dress code mentioned for the tour. However, it is recommended to dress comfortably and appropriately for a night out. Age restrictions may apply, so it's best to check with the tour provider.
Last Words
The Hours Tokyo Local Bar & Izakaya Crawl in Shinjuku Area offers a unique and immersive nightlife experience for visitors to Tokyo.
With its intimate and personalized approach, participants can explore the vibrant streets of Shinjuku, indulge in authentic Japanese food and drinks, and soak in the lively atmosphere of local bars and izakayas.
Whether you're looking to discover hidden gems, mingle with locals, or simply enjoy the vibrant ambiance, this crawl promises an unforgettable night out in Tokyo.