Learn how to make traditional Japanese sweets called Nerikiri and experience a table style tea ceremony. In this article, we will explore the fascinating world of Japanese culture, where you can discover the intricate techniques of Nerikiri making and enjoy the peaceful atmosphere of a traditional tea ceremony.
Participants have praised the host's warm hospitality and informative explanations, making this experience truly unforgettable.
Join us on this exciting journey and explore the lively streets of Harajuku along the way.
Good news! You can book now for free on Viator. You'll only need to pay 24 hours before the start time and you can cancel any time before that no problem. Click the button bellow to go to viator and save your spot before it's full.
Just The Basics
If you're interested in Japanese traditions, you might enjoy making traditional sweets called Nerikiri and participating in a table style tea ceremony. People who have tried it before have found it really enjoyable and felt happy. The tea ceremony is also pretty awesome, and the host is really nice.
Afterwards, you can have some fun checking out the Hello Kitty store and exploring Harajuku. It's definitely an experience you'll remember for a long time!
Here's some other great tours and experiences nearby we think you'll like.
Overview of Traditional Sweets Making
Traditional sweets making is a cool activity where you can learn how to make Nerikiri, a popular Japanese treat. You'll even get to experience a traditional tea ceremony while you're at it. People who have done this activity really enjoyed it and said nice things about it. One person even said the tea ceremony was amazing!
After the sweets making, you can check out the Hello Kitty store and the main street of Harajuku. If you're into Japanese traditions and culture, this is a great thing to do.
You can book it through Viator, but make sure to read their rules before you do. Overall, it's a fun and authentic way to learn about making sweets and experience Japanese culture.
Experience the Table Style Tea Ceremony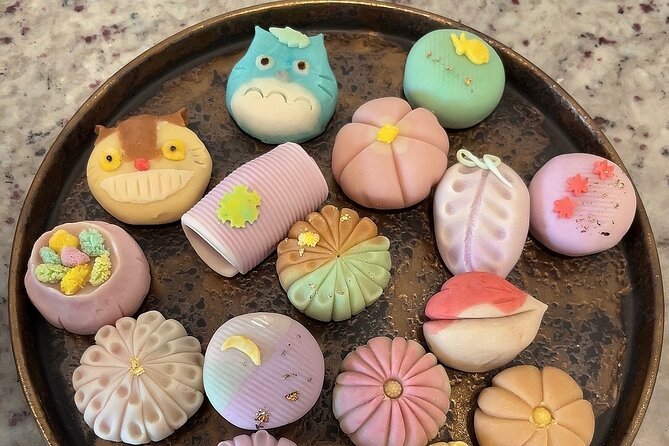 Experience the Table Style Tea Ceremony
During the table style tea ceremony, you will get to see firsthand the special way that tea is prepared and served in Japan. This ceremony is an important part of Japanese culture and has a lot of meaning behind it. It's not just about drinking tea, but also about showing respect and creating a peaceful atmosphere.
You will have the chance to watch a tea master carefully make the tea using traditional utensils. They will move in a precise and graceful way, showing their expertise. The room will be set up in a traditional style, with beautiful tea tools and decorations that create a serene atmosphere.
And of course, you will get to taste the tea! Matcha tea is a special type of green tea that has a unique flavor. It's a bit different from the tea you might be used to, but it's delicious and refreshing.
Participating in the table style tea ceremony will give you a deeper understanding and appreciation for Japanese culture. It's a chance to learn about their traditions and experience something truly special.
Exploring Hello Kitty Store and Harajuku
After the tea ceremony, you can keep exploring and visit the Hello Kitty Store and the lively streets of Harajuku. Harajuku is a famous neighborhood in Tokyo known for its cool fashion and lots of shops. It's a great place to see unique styles and do some shopping.
One of the popular places to go in Harajuku is the Hello Kitty Store. It's a store dedicated to the famous Hello Kitty character. They have all sorts of things you can buy, like clothes, accessories, and even things to decorate your home. Whether you're a big fan of Hello Kitty or just interested in Japanese pop culture, checking out the Hello Kitty Store in Harajuku is definitely something you should do.
Positive Feedback and Reviews From Guests
Guests really love the traditional sweets making activity and table style tea ceremony. They think it's cool to be able to take part in these cultural experiences and learn about Japanese traditions. One guest even said the tea ceremony was super amazing.
The host gets a lot of praise for being friendly and helpful, and guests appreciate that they explain things in English and make them feel welcome. Actually, many guests think this activity is so great that they recommend it to others. The positive feedback and reviews show that it's a fun and educational experience, perfect for anyone who wants to learn about Japanese culture.
The friendly atmosphere and chance to learn make guests really happy and satisfied.
Viator Information and Booking Details
Here are some important things to know about booking the activity 'Make Traditional Sweets Nerikiri & Table Style of Tea Ceremony' through Viator:
Confirmation: After you book the activity, you'll receive a confirmation to make sure your reservation is confirmed and secured.

Accessibility: The activity is not suitable for wheelchairs, but you can bring a stroller if needed. It's also easy to get to the location using public transportation. If you have a baby, they have seats available for them too.

Cancellation Policy: If you need to cancel, Viator offers a full refund if you do it at least 24 hours before the activity starts. However, if you cancel within 24 hours of the start time, you won't get a refund. Make sure to check the specific cut-off times based on your local time and the terms and conditions set by Viator.
If you have any questions or concerns, you can reach out to Viator customer support through the Viator Help Center.
Frequently Asked Questions
What Is the Cost of the Activity and Are There Any Additional Fees?
The activity costs at least $60.00, but the price might change depending on how many people are in your group or if you want any extra services. To find out exactly how much it will cost, you can check with Viator. Just remember, there might be extra fees for certain things or if you want to customize your experience.
Are There Any Age Restrictions for Participating in the Traditional Sweets Making and Tea Ceremony?
Anyone of any age can participate in the traditional sweets making and tea ceremony. It doesn't matter how old you are, as long as you're interested in Japanese traditions and want to learn about Nerikiri and the table style of tea ceremony, you're welcome to join in. It's a fun way to experience Japanese culture and learn some new skills!
Is It Necessary to Make a Reservation in Advance or Can You Walk In?
To have the traditional sweets making and tea ceremony experience, it's important to make a reservation beforehand. You can't just walk in and expect to get a spot. To make sure you have a guaranteed spot, it's best to book in advance through Viator's website or customer service.
How Long Does the Activity Typically Last?
The activity usually lasts for about 1-2 hours. This can change depending on how many people are participating and how involved they are. During this time, you'll get to make traditional sweets and really get into the experience. It's a fun and immersive way to spend some time!
Is There a Dress Code or Any Specific Attire Required for the Tea Ceremony?
You don't have to follow a specific dress code for the tea ceremony. It's best to wear something comfortable and respectful. Some people might wear traditional Japanese clothes like a kimono, but you don't have to.
Last Words
Making traditional sweets called Nerikiri and participating in a table style tea ceremony can be a really cool and educational experience for people who are interested in Japanese traditions. People who have tried it before have said that it's really enjoyable and they felt happy. They also thought the tea ceremony was awesome and liked how nice the host was.
Plus, you'll get a chance to check out the Hello Kitty store and Harajuku, which sounds like a lot of fun.
Overall, it's something you'll remember for a long time!